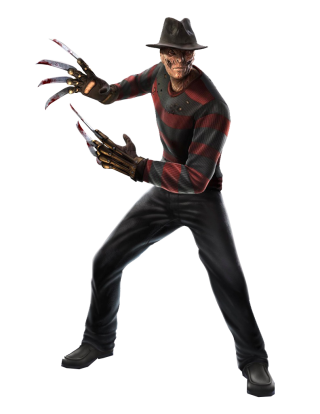 Frederick Charles "Freddy" Krueger is a fictional character from the Nightmare on Elm Street series of horror films. He first appears in Wes Craven's A Nightmare on Elm Street (1984) as a disfigured dream stalker who uses a glove armed with razors to kill his victims in their dreams, ultimately causing their deaths in the waking world as well. However, whenever he is put into the real world, he has normal human vulnerability.
He was created by Wes Craven, and has been consistently portrayed by Robert Englund since his first appearance. In the 2010 remake however, Krueger is portrayed by Jackie Earle Haley.
Freddy Krueger was officially confirmed as the fourth DLC character for Mortal Kombat (2011) during the San Diego Comic Con 2011 event. He is available to download as of August 9, 2011.