Welcome to the Wiki!
We're a collaborative community website about your topic that anyone, including you, can edit. Click the edit button at the top of any page to get started! Add anything from your personality, video games, movies, favorite characters, cars, consoles and other appropriate desires, but read this closely: WARNING: This is a very important rule! "NO INAPPROPRIATE THINGS AT ALL! ALSO, NO COPIED MATERIAL ALLOWED!
Read More
Game of the Month
The Last of Us is an action-adventure horror survival developed by Naughty Dog, released worldwide on June 14 2013, for the Playstation 3. A remastered version for the Playstation 4, called The Last of Us Remastered was released on July 29 2014 in North America and it is set to be released on July 30 2014 worldwide. The story follows Joel and Ellie as they try to survive toghether in a post-apocalyptic United States that is ravaged by infection. The Last of Us received wide critical acclaim for its writing, voice acting, art directions, sound design and level design, and also praised for its characterization and depiction of the human condition. The game is considered one of the most significant titles of the seventh generation video game era.
Read More
Character of the month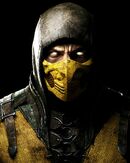 Scorpion is a character in the fighitng game series Mortal Kombat. He is one of the few characters that has appeared in every Mortal Kombat to date and the most popular in the series because of his status as an undead ninja and the never-ending rivalry with the Lin Kuei warrior, Sub-Zero. Because of his motives and goals, Scorpion is considered an anti-hero, neither good or evil.
Read More
Game News
Create blog post
Blogs & News
So, on Fanfiction.net, there are these two stories called America vs Riders and When Worlds Collide. They are both good by their own merits, and I hope you check them out and enjoy them.




America vs Ri…

Read more >

Zenith

Volume I

Part I




For millenia, humans have reported sights of strange flying objects, of meeting bizarre non-human creatures obviously not of this world. Some have even claimed to have been abduct…

Read more >

~The year is 1950 and a nuclear war has happened and 3 soldiers were sent to be frozen in a vault to live through the nukes~ "Psst NCR get over here" whispered Ermac trying not to get caught by the …

Read more >
See more >
Community content is available under
CC-BY-SA
unless otherwise noted.