Scorpion (Real Name: Hanzo Sasori Hazashi) is the most well known character from the Mortal Kombat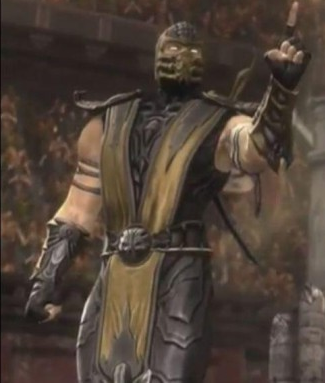 fighting franchise and also one of the original characters to debut in the first game. Along with the Sub-Zero brothers and the thunder-god Raiden, he appeared the most Mortal Kombat games. His rival is sub-zero.
Scorpion was a Japanese ninja assassin from the Shirai Ryu Clan who was sent by the sorcerer Quan Chi to search for Shinnok's amulet. He did not know that a Chinese ninja from the Lin Kuei named Sub-Zero was sent by Quan Chi too for the same task. As they continued their quest, they at last confronted themselves. Sub-Zero emerged victorious over Scorpion, and then killed him. Sub-Zero delivered the Amulet to Quan Chi who had promised to wipe out the Shirai Ryu Clan. He did, but shape shifted as Sub-Zero he killed the clan and Scorpion's family. Scorpion was then resurrected and learned Sub-Zero killed his family and clan. Enraged, he signed in for the Mortal Kombat Tournament to hunt down and kill Sub-Zero.