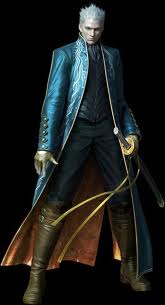 He is set to appear in Ultimate Marvel Vs. Capcom 3.
Vergil is the older of the twin sons of Sparda and Eva, and is the main antagonist of Devil May Cry 3: Dante's Awakening and the special edition version. Unlike Dante, his younger brother, he embraces his demonic heritage and despises his human one. His personality is a complete opposite to Dante's; whereas Dante is hot-headed and sarcastic, Vergil is cold blooded and sardonic. He has a lust for power and is willing to disregard anything to obtain the power of his father, Sparda. He uses Yamato, a keepsake from his father, and possesses a sense of style which rivals Dante's.
As a playable character in Devil May Cry 3: Special Edition, Vergil has access to Devil Trigger, Dark Slayer Style, Yamato, Beowulf, Force Edge, and Summoned Swords throughout the game.
At first glance, Vergil appears physically similar to Dante. While they share the white hair color, Vergil's hair style is swept up to resemble his father's. In stark contrast to Dante's wardrobe featuring a largely red color scheme, Vergil wears blue predominantly, and dresses in a manner that gives him a bit of a regal air (in this case; a long coat with three tails and a snake-like pattern on the right side, a black sleeveless top and brown boots), in contrast to Dante's more casual look.